Coronavirus Updates
Ensuring the American people are safe is the most important job of government. It is extremely important not to panic and to follow good hygiene practices in order to help stop the spread of all infectious diseases. Thank you to all health care professionals, first responders, public servants, and many others who are working around the clock to keep the American people as safe and prepared as possible. Times like these remind us we have more in common as Americans than we do differences.

Although information will be added to this page regularly, you can also get the latest news by following @BobLatta on Twitter, @BobLatta on Facebook, or daily coronavirus alerts.

COVID-19 VACCINE DISTRIBUTION LOCATIONS IN OHIO
Weekly age groupings, outlined below, start with the most vulnerable to allow for a smooth opening to Phase 1B, gradually adding more eligible Ohioans each week. Please visit the COVID-19 Vaccination Program webpage for more information on Ohio's Phased Approach at vaccine distribution. Phase 1B of vaccine distribution will include the following audiences. When a new age group begins, vaccinations may not be complete for the previous age group. It will take a number of weeks to distribute all of the vaccine given the limited doses available. Someone in the first age group, for example, will still be able to be vaccinated once the next group begins.
The week of Jan. 19: Ohioans 80 years of age and older.
The week of Jan. 25: Ohioans 75 years of age and older; those with severe congenital or developmental disorders.
The week of Feb. 1: Ohioans 70 years of age and older; employees of K-12 schools that wish to remain or return to in-person or hybrid models.
The week of Feb. 8: Ohioans 65 years of age and older.

Each provider manages its own schedules and appointments. FIND YOUR VACCINE PROVIDER HERE.

LATEST NUMBERS
The below links direct you to up-to-date information on cases, hospitalizations, deaths, and recoveries.
Ohio
USA
World Wide

STATE & LOCAL GOVERNMENT RELIEF
Through the Coronavirus Relief Fund, the CARES Act provides for payments to State, Local, and Tribal governments navigating the impact of the COVID-19 outbreak.

Find more information and resources from the Treasury here.

Learn more here about how Congress, the Treasury Department, and the Federal Reserve are providing support to help states and localities.

State and local governments have been allocated $765 billion in aid from legislation passed by Congress in response to the coronavirus.

BEWARE OF SCAMS
Information changes quickly and while it is important to stay informed, there are also scams taking place where incorrect information is being shared and Americans are being taken advantage of. Phone scammers have seized the opportunity to prey on consumers. The FCC has launched a COVID-19 Consumer Warnings and Safety Tips webpage regarding the proliferation of scam phone calls and texts promoting bogus cures, offering fake test kits, sending hoax text messages, and generally preying on fears about COVID-19.

The FTC has helpful tips, they are AT THIS LINK and some are below:
Hang up on robocalls. Don't press any numbers. Scammers are using illegal robocalls to pitch everything from scam Coronavirus treatments to work-at-home schemes. The recording might say that pressing a number will let you speak to a live operator or remove you from their call list, but it might lead to more robocalls, instead.
Fact-check information. Scammers, and sometimes well-meaning people, share information that hasn't been verified. Before you pass on any messages, contact trusted sources. Visit What the U.S. Government is Doing for links to federal, state and local government agencies.

Don't respond to texts and emails about checks from the government. The details are still being worked out. Anyone who tells you they can get you the money now is a scammer.
Don't click on links from sources you don't know. They could download viruses onto your computer or device.
Watch for emails claiming to be from the Centers for Disease Control and Prevention (CDC) or experts saying they have information about the virus. For the most up-to-date information about the Coronavirus, visit the Centers for Disease Control and Prevention (CDC) and the World Health Organization (WHO).
Ignore online offers for vaccinations.
Multiple federal agencies – from the Internal Revenue Service, Department of Health and Human Services, to the Social Security Administration – have issued warnings. Here are some common red flags to look for, courtesy of the IRS:
Scammers may:
Emphasize the words "Stimulus Check" or "Stimulus Payment." Those are incorrect. The official term is economic impact payment.
Ask the taxpayer to sign over their economic impact payment check to them.
Ask by phone, email, text, or social media for verification of personal and/or banking information saying that the information is needed to receive or speed up their economic impact payment.
Suggest that they can get a tax refund or economic impact payment faster by working on the taxpayer's behalf. This scam could be conducted by social media or even in person.
Mail the taxpayer a bogus check, perhaps in an odd amount, then tell the taxpayer to call a number or verify information online in order to cash it.
Scams and schemes may find their way to taxpayers via phone, social media, or email tied to these relief checks. If you do find yourself victim to what appears to be a scam, you can report it directly to the federal government here and fill out a one-page online form.

BEST PRACTICES


It is extremely important to continue to follow good hygiene practices in order to help stop the spread of all infectious diseases.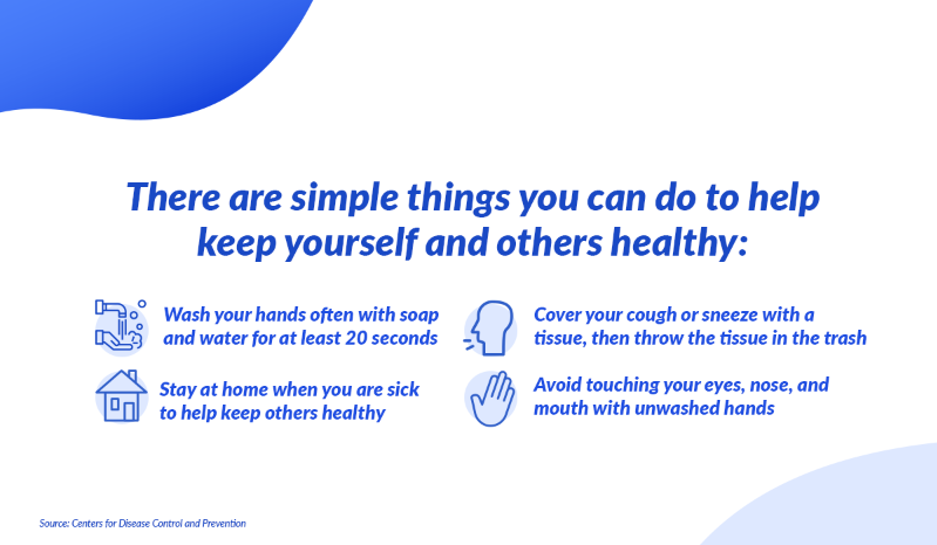 Wash your hands often with soap and water for at least 20 seconds, especially after going to the bathroom; before eating; and after blowing your nose, coughing, or sneezing.
Avoid close contact with people who are sick.

Avoid touching your eyes, nose, and mouth.
Stay home when you are sick.
Cover your cough or sneeze with a tissue, then throw the tissue in the trash.
Clean and disinfect frequently touched objects and surfaces using a regular household cleaning spray or wipe.

For additional information: https://www.cdc.gov/coronavirus/2019-ncov/about/prevention-treatment.html
OHIO SPECIFIC
Public inquiries should be directed to the Ohio Department of Health COVID-19 hotline at 1-833-4-ASK-ODH (1-833-427-5634) or the ODH website at coronavirus.ohio.gov.
The public hotline is available from 9:00 a.m. - 8:00 p.m. every day.

Responsible RestartOhio is about protecting the health of employees, customers, and their families; supporting community efforts to control the spread of the virus; and, leading in responsibly getting Ohio back to work. For more information, click here.

PEOPLE AT HIGHER RISK
Early information out of China, where COVID-19 first started, shows that some people are at higher risk of getting very sick from this illness. This includes:
Older adults
People who have serious chronic medical conditions like:

Heart disease
Diabetes
Lung disease
The Administration has announced it is expanding telehealth access for Medicare patients to help protect America's seniors and high-risk individuals. More information below and at this link: https://www.cms.gov/newsroom/press-releases/president-trump-expands-telehealth-benefits-medicare-beneficiaries-during-covid-19-outbreak
The President is directing the Centers for Medicare and Medicaid Services (CMS) to expand telehealth access for Medicare beneficiaries.

Prior to this, Medicare was only able to offer telehealth services under limited circumstances.

Medicare patients across the country will now be able to receive a wide range of services via telehealth.
The Administration is also relaxing enforcement of HIPAA restrictions to ensure doctors can expand care for patients using telehealth.
ECONOMIC IMPACT PAYMENTS
The U.S. Department of the Treasury and the Internal Revenue Service (IRS) have announced that Social Security beneficiaries and railroad retirees who are not typically required to file tax returns will not need to file an abbreviated tax return to receive an Economic Impact Payment. Instead, payments will be automatically deposited into their bank accounts and will be available throughout the rest of 2020.
The IRS will use the information on the Form SSA-1099 and Form RRB-1099 to generate $1,200 Economic Impact Payments to Social Security recipients who did not file tax returns in 2018 or 2019. Recipients will receive these payments as a direct deposit or by paper check, just as they would normally receive their benefits. The full rebate amount ($1,200 individuals, $2,400 couples, $500 for children) is available for those with adjusted gross income (AGI) at or below $75,000 individual/$112,500 head of household/$150,000 joint.
For people who have already filed their 2019 tax returns, the IRS will use this information to calculate the payment amount. For those who have not yet filed their return for 2019, the IRS will use information from their 2018 tax filing to calculate the payment. The economic impact payment will be deposited directly into the same banking account reflected on the return filed.
SMALL BUSINESSES
If you are a small business owner and struggling with the effects of COVID-19, please consider the resources available through the Small Business Administration (SBA).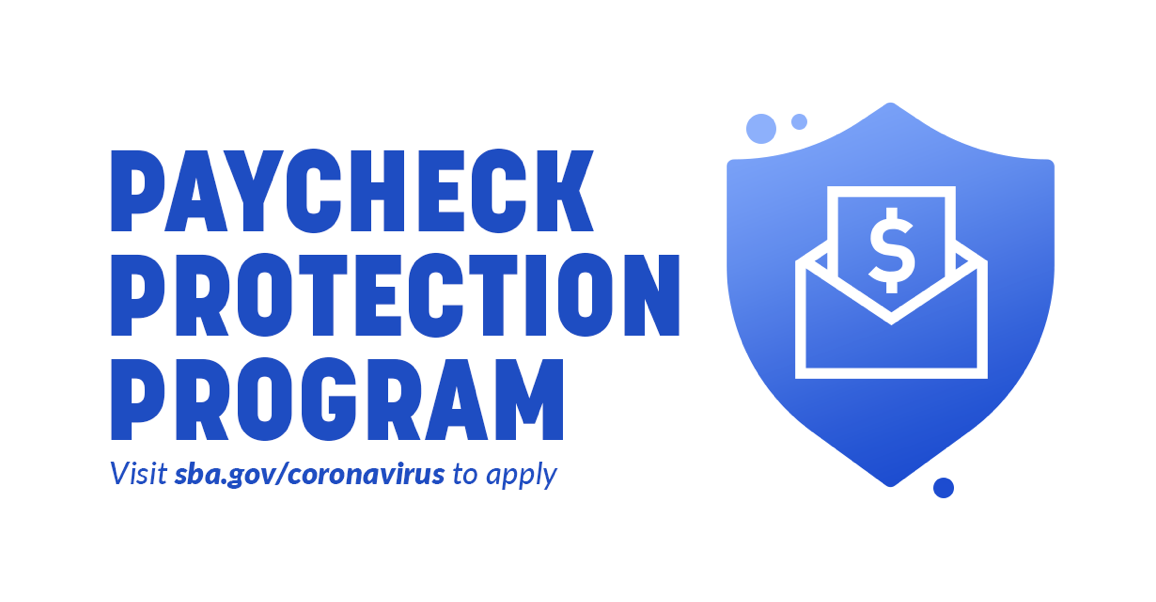 Small businesses and sole proprietorships can apply for the Paycheck Protection Program (PPP), a provision of the CARES Act that provides small businesses with funds to pay up to 8 weeks of payroll costs including benefits.


Small Businesses, Non-profits, Veterans Groups, and Tribal Groups with fewer than 500 employees. Businesses in certain industries can have more than 500 employees if they meet the SBA's size standards for those industries. The SBA's affiliation standards are waived for small businesses in the hotel and food industries and franchises in the SBA's Franchise Directory.

QUICK LINKS FOR MORE INFORMATION:

In addition, SBA recommends that each small business develop an emergency operations plan that can be implemented at a moment's notice. Toll Free Questions & Answers Phone Number: (800) 659-2955

Internal Revenue Service - Coronavirus Tax Relief Information
U.S. Treasury - Proposed Economic Stimulus Provisions
House Financial Services Committee - Resources and Government Response



VETERANS


The Department of Veterans Affairs is working with the CDC in response to #COVID19. If you are a veteran, call your closest VA facility if you are experiencing fever, cough, or shortness of breath before visiting a facility in person. Find your closest VA facility AT THIS LINK.

Hundreds of thousands of veterans and military families rely on the GI Bill to support themselves while they are in school. Student veterans and others relying on the GI Bill to attend college and make ends meet should not be stripped of their benefits because schools move to online classes to prevent the spread of the coronavirus. H.R. 6194 passed the House and was signed into law. This bill is a commonsense fix to safeguard student veterans' earned benefits as they continue to work hard towards an education during the coronavirus pandemic. This bill would allow VA to maintain the status quo for veterans and other GI Bill beneficiaries during an unprecedented time of uncertainty. More information AT THIS LINK.

The VA Ann Arbor Healthcare System will begin shifting operations to preserve resources this weekend in preparation for an anticipated surge of COVID-19 patients. This is part of a tri-state operation, including VA Medical Centers across Veterans Integrated Service Network (VISN) 10. VISN 10 oversees all VA Medical Centers in Cleveland, Columbus, Chillicothe, Dayton, Cincinnati, Northern Indiana, Indianapolis, Detroit, Saginaw, Battle Creek, and Ann Arbor. As a result, the Community Based Outpatient Clinic in Toledo will experience a reduction in services and increased utilization of virtual care.

For Veterans in these affected areas who have questions about routine medical care, please contact 734-845-5290 and press 2.
For those needing pharmacy refills, please call 866-316-9350 Ext. 1.
For those needing to speak to a medical provider, please call 734-769-7100.



WHAT TO DO IF YOU GET SICK


If you are sick with COVID-19 or suspect you are infected with the virus that causes COVID-19, follow the steps AT THIS LINK to help prevent the disease from spreading to people in your home and community. Importantly, stay home and call ahead before visiting your doctor.



CDC RESOURCES

AGENCY RESOURCES

FDA's hotline (1-888-INFO-FDA) is available 24 hours a day for labs to call regarding difficulties obtaining supplies for collecting patient samples for COVID-19 testing, including swabs, media needed for transport, and conservation of the samples. Labs are encouraged to reach out at CDRH-EUA-Templates@fda.hhs.gov with any questions related to diagnostic development. Lastly, this Frequently Asked Questions page contains information on vaccines, diagnostic tests, drugs, medical devices, food and other products FDA regulates.

The Department of Education's Federal Student Aid customer care line remains open at 800-4-FED-AID. Additionally, questions on which the Department can be helpful should be directed to COVID-19@ed.gov.


The Department of Defense offers resources for constituents to take action and stay informed about COVID-19. You can sign up for email updates and if you have any questions, please visit https://www.tricare.mil/coronavirus.

The U.S. Army has established a COVID-19 Information Hotline at 1-800-984-8523.

TRAVELING
The CDC has information about COVID-19 for travelers and travel related industries. You can find that information AT THIS LINK. CDC travel health notices can be found here. The CDC urges residents of New York, New Jersey, and Connecticut to refrain from non-essential domestic travel for 14 days effective immediately.

International travel guidance issued by the U.S. Department of State is available here. U.S. Department of State or specific country advisories are listed here.

The Department of State's phone (1-888-407-4747) is available from 8 AM to 8 PM Eastern Standard and is toll-free in the United States and Canada. From other countries, citizens may call 1-202-501-4444. Citizens may also reach out directly to U.S. Embassies and consulates overseas. Links to Embassy links with country specific COVID-19 information is available here and health alerts can be found by searching specific countries here. Travelers who register through the Smart Traveler Enrollment Program at Step.State.gov will receive urgent country-specific updates via e-mail.