Press Releases
Latta Tours Ottawa National Wildlife Refuge; Discusses GLRI Projects
Congressman Bob Latta (R-Bowling Green) toured the Ottawa National Wildlife Refuge (OWNR) yesterday morning and discussed Great Lakes Restoration Initiative (GLRI) projects at the refuge. The GLRI funds projects that protect and restore the Great Lakes, the largest system of fresh surface water in the world. Latta has been a supporter of full funding for the program.
In addition, Latta discussed the recent passage of the America's Water Infrastructure Act which includes provisions to protect Lake Erie from invasive species like Asian Carp and authorizes a coastal resilience study to protect the coastline of the Great Lakes.
"The Great Lakes are the crown jewel of our region, and it's essential we protect them," said Latta. "I appreciated the opportunity to view a number of GLRI projects and see how they are improving the overall health of Lake Erie. We're blessed to have the Ottawa National Wildlife Refuge right in our backyard, and I encourage everyone to take the time to visit the refuge and view the resident wildlife. Thank you to Jason Lewis, ONWR Refuge Manager, for showing me around and for the conservation work that members of U.S. Fish and Wildlife do every day."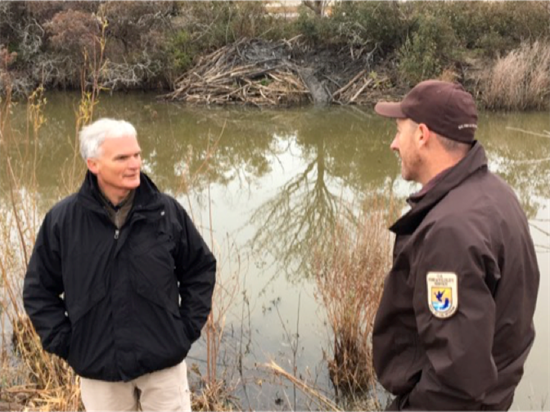 Latta talks with Jason Lewis, Refuge Manager at ONWR, in front of a large beaver lodge
Ottawa National Wildlife Refuge is located on the shore of Lake Erie and was established in 1961 to provide habitat for waterfowl and other migratory birds, resident wildlife, and endangered and threatened species. The refuge manages 6,500 acres of wetland, grassland, and wooded habitat.
###