Press Releases
Latta Votes No on Government Takeover of the Internet; Champions Legislation to Codify Net Neutrality Principles
This morning, Congressman Bob Latta (R-Bowling Green) voted against legislation, H.R. 1644, that would establish government control over Internet services by subjecting providers to regulations imposed under Title II of the Communications Act of 1934. The legislation was approved by the U.S. House by a vote of 232-190.

Latta said on the House floor, "This is not about net neutrality – if this was about net neutrality, we would be operating under the long-standing bipartisan premise that net neutrality could be achieved without Title II. Like many of my colleagues on both sides of the aisle, I agree that Congress needs to codify basic internet protection principles such as no blocking, no throttling, and no paid prioritization."

Congressman Latta made overtures to the Democratic majority in the House to work together on bipartisan legislation that would codify net neutrality principles without classifying Internet Service Providers (ISPs) under the Title II framework. These principles would ensure no blocking, no throttling, and no paid prioritization by ISPs. He introduced H.R. 1006, legislation that had been previously introduced by former Democratic Energy and Commerce Chairman Henry Waxman that would codify net neutrality principles, but the Democratic majority has rebuffed efforts to work in a bipartisan manner.

Latta also said, "The net neutrality bill I introduced is based directly upon the proposal of former Energy and Commerce Chairman Henry Waxman. It would prevent Internet Service Providers from engaging in much of the discriminatory behavior the majority is concerned about, and it would do so under Title I. Both former Republican and Democratic Federal Communications Commission Chairmen have also recognized that net neutrality can be resolved without vastly expanding the FCC's power under Title II."

"We have seen broadband investment and innovation decline during the time the Internet was regulated under the framework that H.R. 1644 would establish. This has been verified through studies, but also in a recent Energy Commerce Committee hearing when a witness who owns a small ISP in Oregon testified on the hampering effects the 2015 Order had on his own business. And, while we can quantify lost investment, we do not know the advancements in technology we have missed out on due to limited resources directed toward innovation.

"On the point of not knowing, we still do not know the 700+ regulations that H.R. 1644 would permanently forbear from either. Before we permanently lock in anything, I believe Congress should know exactly what we are locking in. We have pressed the majority for this list multiple times and have not received it. That is why I filed an amendment that would have required the FCC to produce this list if the bill does become law.
"I support net neutrality, but I cannot and do not support H.R. 1644. We should be providing the American people with a real net neutrality solution rather than pushing forward an agenda that does not have the capability to become law and won't protect the Internet."
Latta's floor speech is available here.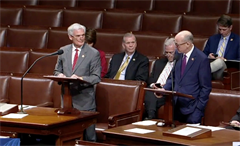 Latta also criticized that H.R. 1644 includes no provisions that address blocking or throttling by edge providers. Edge providers are websites, web services, applications, or online content delivery services that customers connect with over the Internet. Examples of edge providers are Google, Amazon, Netflix, and Facebook. While numerous edge providers prioritize content, block content, and censor content, they would be subject to a different set of rules than ISPs under the legislation.

Congressman Latta did propose an amendment that was accepted by the House. Currently, proponents of H.R. 1644 have said that the legislation would forbear 700 regulations that were included under the 2015 FCC Open Internet Order. However, those 700 regulations are not publicly available, and Latta's amendment would require more transparency.
###