Press Releases
Latta Speaks at Napoleon Rotary and Visits Four County Career Center
Congressman Bob Latta (R-Bowling Green) made multiple stops in Henry County today as he spoke at the Napoleon Rotary lunch and toured Four County Career Center. Four County had just celebrated their 50th anniversary at a celebration Tuesday night. Latta saw the center's robotics, computer programming, veterinary assistant, computer design, and health sciences programs on his tour of the career center – the fourth career center he has toured in the past two weeks.

At his rotary speech, Latta mentioned how the booming economy means that there are more jobs available than job-seekers for the first time in U.S history. He also mentioned that unemployment has now hit a 49-year low for all workers and a 65-year low for women. Congressman Latta also discussed the opioid crisis and his legislation, the INFO Act, which is on its way to the President's desk to be signed into law.

"Touring Four County was my fourth career center stop over the last two weeks and I have to say, it makes you feel good to see what these students are doing to prepare themselves for their careers," said Latta. "Whether its learning how to operate manufacturing technology or computer design, they'll be ready to enter a workforce that needs skilled employees.

"At rotary, I discussed our region's career and technical education programs and also talked about the important work we've done to combat the opioid crisis. The President should be signing comprehensive legislation to combat the opioid epidemic soon, and those policies will boost efforts in our communities to stem this crisis."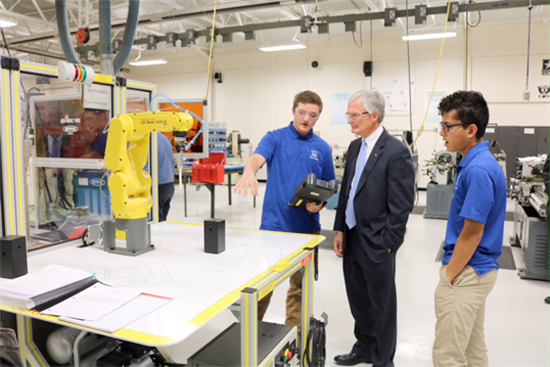 Latta with students at Four County Career Center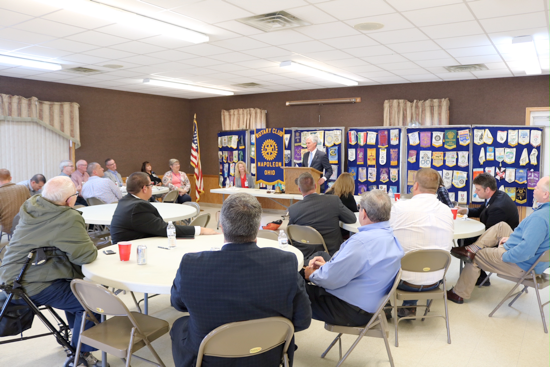 Latta addresses the Napoleon Rotary Club
###